About us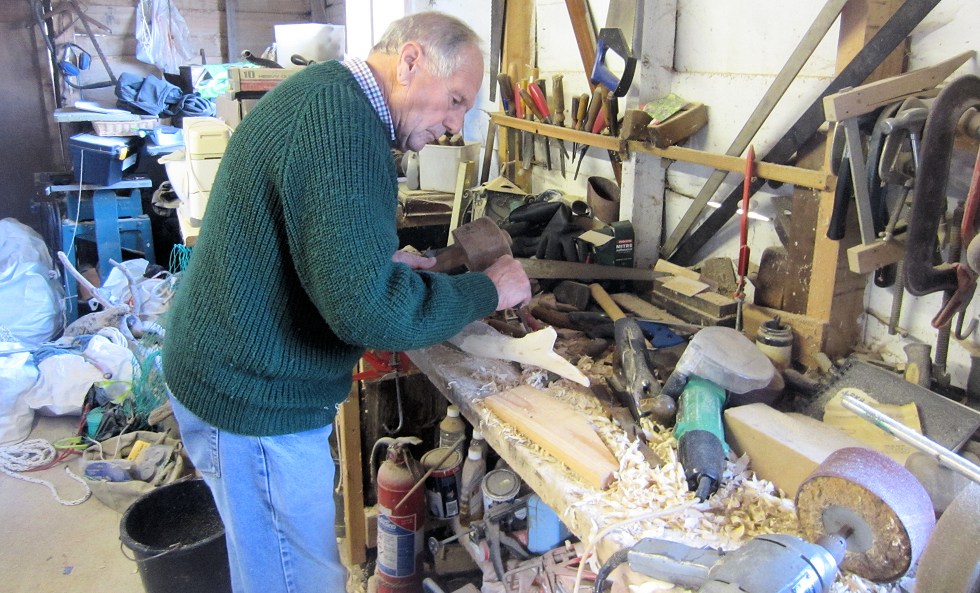 Lyme Bay Carvings showcase the work of Lyme Regis craftsman, Roy Gollop.
Roy is a member of one of Lyme's oldest seafaring families. He began his maritime career as an apprentice boatbuilder in 1946 before enlisting in the Royal Marines where he was responsible for landing craft operations before becoming senior instructor of seamanship. He returned to Lyme Regis and managed the family fishing business for several years until he finally reopened the toolbox to build clinker dinghies and working boats for local people.
Now in his 80s, Roy has turned his many creative talents into producing desirable wooden carvings and sculptures. He is also a visiting instructor and mentor at the Lyme Regis Boat Building Academy and the National Maritime Museum in Cornwall, where he passes on his extensive skills and knowledge to a new generation, preserving the art of traditional boat building for generations to come.
Roy takes his inspiration from his love of all things coastal and balances his understanding of the properties of wood with an appreciation of flowing lines and form. He has developed his own style and, although he feels details are important, he believes it is essential for the warmth and beauty of the wood to be seen.
His passion for wood and the beauty he sees in his subjects enables him to dedicate the countless hours necessary to create each piece. Roy takes immense pride in his work, from the initial phase where he visualises his subject from off cuts of wood or driftwood collected from the beach at Lyme Regis, through the shaping and texturing process to the finished carving.
Roy's subjects often come from the animal kingdom where he favours birds and sea life, hoping to capture the spirit and essence of the creature in his carved creation.