Hand carved Kingfisher driftwood sculpture
This sculpture, depicting a Kingfisher landing on a tree, is the creation of renowned Lyme Regis seafarer and craftsman Roy Gollop.

This elegant and beautiful piece is carved entirely from driftwood washed up on the shore of the Jurassic coast.
The Kingfisher carving is attached to the driftwood post with dowel which enables it to be detached if required.
Height 83cm width 40cm (approximately)
This item has been sold

Free postage and packaging - free delivery to mainland UK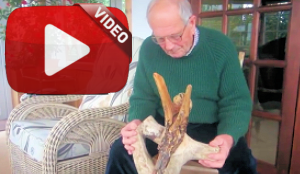 Roy Gollop talks about his driftwood carving of a Kingfisher